Portable 30W Solar Street Light All In one solar street Lamp 30W
MOQ :10 piece
Lead Time :15 Days
Product details
Supply Ability
Supply Ability:3000 piecesWarranty(Year):2 Year
Packaging & Delivery
Length:101 cmWidth:50 cm
Height:21 cmLogistics Weight:19.000 kg/piece
Packaging:1 piece
Product Specifications
Brand name:HYE
Light Source:LED/Energy Saving
Voltage:Other
Usage:Garden/Street
IP rating:IP65
Charging Time:10
Product Description
Portable 30W Solar Street Light All In one solar street Lamp
Solar street lights are fresh alternative to traditional street lamps such as LPS, HPS, or MH street lights. LED lighting provides a multitude of advantages over conventional incandescent light: LED solar street lights are environmental friendly, energy efficient, and cost-effective. This smart, 'green' option for outdoor LED lighting has emerged on the green scene due to the recent technological advancements of LED illumination.
The system is mainly composed of solar panel light source, controller and battery. In daytime, when there is sunshine, the solar panel can convert the solar energy to electric power and store it in maintenance-free battery.At night or rainy or cloudy condition, the controller can control the lights automatically on when day off, auto-off when day break, and the battery shall supply the power for lighting.
Technical Parameter
Construction
- Simplified design optimize the construction of the fixture to keep the stability but low cost.
- Air-flow through heat sink design provides perfect heat management, lighter but stronger construction.
- Smooth and glossy processing with natural clean system prevents debris build-up and minimizes wind loading.
- Economic self contain street lighting fixtures ready for installation right out of the box.
- Each fixture can be retrofitted to an existing pole in no time.
- Complete range from 5W- 60W LED built on the same design concept. intelligent sensor for dusk to dawn operation, Brightness automatically switched by charge controller management. Universal mounting bracket enables mounting on variety of poles .
LED & Optics
? Eutectic led packaging technology is applied for low heat resistance, low light degradation, high efficiency and long life (Projected L70>50000h @ Ta 25C). High efficiency Pure white (6500-7000K) & Warm white (4000-4500K) with CRI 70 rated or customized CCT LED are available. Precise optic lens in high intensity PC material with IESNA Type I provides high uniformity and optimal luminaire spacing, the optical system optimizes the light distribution, eliminate the waste of light, increase the reasonable and effective using of light.

?Electronics - IP 65 waterproof charge controller
* Manufactured by ISO 9001: 2000 Quality assured facility
* Over load/ Over charge / Over discharge / short circuit protection
* Charge temperature: -0 to +60 degree Celsius, discharge temperature -20 to 60 degree Celsius
* Rust proof enclosure with IP65 for water and rust protection
Application - Lighting for pedestrian ways, rural ways, pavement etc. Available to replace traditional MH or HPS luminaries 50-100W with energy saving up to 60%. Listings –CE listing,RoHS compliant IEC 60598-2-3:2000
Major Applications:
Major Roadways
Residential Streets
Pedestrian Walkways
Parking Lots
Docks and Piers
Remote and Rural Locations
Camp sites
Roundabouts
Camp sites
Beaches
Service station
landscape lighting
Special Features:
Low-cost installation – no trenching, no heavy cable, quick & easy installation anywhere
Ultra-low maintenance & long product life –5 years warranty on solar panels & LED light with rated for 60,000 hours of maintenance free operation, sealed deep cycle (AGM gel type) maintenance free battery.
Green Light Source - 40-70% less power consumption than other light sources. LED lights emit no light pollution, provides bright white light which improves color recognition and improves night visibility from 400%-1000% over other light sources.
Flexible configuration - solar lights can be easily configured to suite your requirements with solar module, wind module and battery banks
Advanced control unit - Solar light controller provides easy configuration, automatic operations and advanced work modes.
3-5 days backup power – for rainy, stormy and cloudy days
Complete stand-along & no bill to pay –system is designed completely off-the-grid, there will never be an electricity bill to pay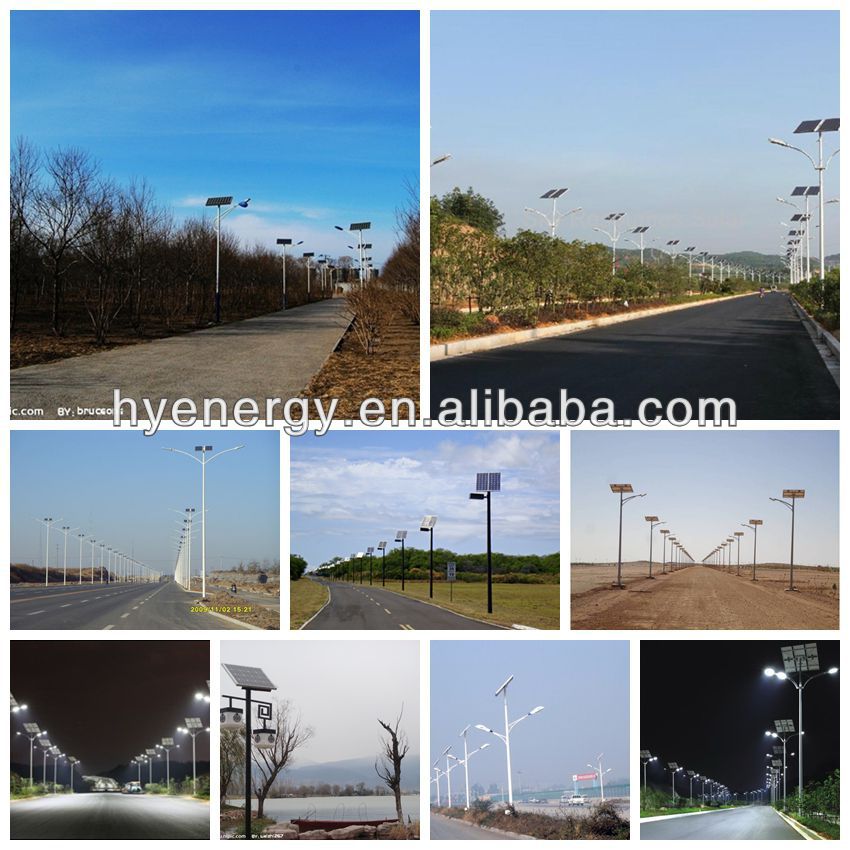 You May Like